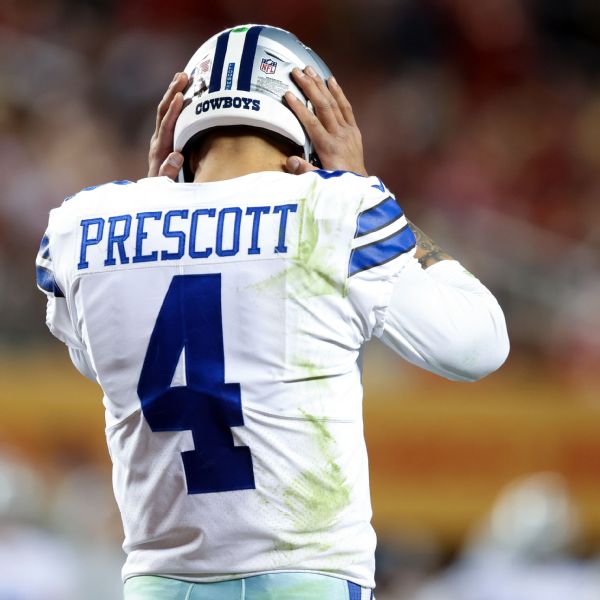 SANTA CLARA, Calif. — For the third time in his career, Dak Prescott had the Dallas Cowboys in the divisional round of the playoffs, and for the third time, his season ended there.
This time, it was in a 19-12 loss on Sunday to the San Francisco 49ers, the same team that eliminated the Cowboys in the wild-card round last season.
During the 2016 campaign, Prescott's rookie year, the Cowboys lost to the Green Bay Packers in the divisional round despite having home-field advantage in the playoffs. In 2018, the Cowboys lost at the Los Angeles Rams, who went on to win the NFC Championship Game and lose to the New England Patriots in the Super Bowl.
Despite the heartache on Sunday, Prescott's belief is not shaken.
"If I had the answers, then we would've won tonight. Too early. Too soon," Prescott said. "And I promise you we will, though. In my time playing on this team, for this organization, we will. Yeah, it sucks that it's 365 days away to get back to this position, but we've got to take it day by day, step by step, and that's what I'll do. I know that's who I am. I'll respond the right way. As I said, when we get this team aligned, the guys that we get back, coaches, we'll do what's necessary to be right back here and win the next time."
The Cowboys are now 27 seasons removed from their last championship, in Super Bowl XXX. While they won a road playoff game for the first time since 1992 with their 31-14 decision over the Tampa Bay Buccaneers in the wild-card round, the Cowboys envisioned a trip to Philadelphia next weekend to take on the Eagles in the conference title game.
For Prescott, who completed 23 of 37 passes for 206 yards and a touchdown with two interceptions on Sunday, the burden only grows.
"I'm disappointed in the way that I've played. Those guys in that locker room gave it all. Both sides of the ball. And put me in a position to go win the game. And I wasn't able to do that," he said. "And, yeah, I mean, I put it on my shoulders. When you play this position, when you play for this organization, you've got to accept that. That's the reality of it. And as I said, it will make me better.
"It sucks, as I said, that I don't get another shot at it for a long time, but I know that when I wake up tomorrow, it will be the first thing on my mind, and it will as I carry it through in my training throughout this offseason, as we get to the start of next season. It's about finding a way to get better, mastering everything that we can to make sure that we get over this hump, whatever it is, and give ourselves a chance of winning it all."
Team owner and general manager Jerry Jones said Prescott is the top reason for hope that the Cowboys' championship drought will end.
"I thought we would win it because I've got such confidence in Dak," Jones said. "I'll line up out there five times with that [similar] situation, and if we've got him at quarterback, I'll take my chances. So I'm just saying give me that setup a year in advance, a month in advance, and give me him as the quarterback and I feel very strongly that we'll win."
But Prescott tied for the NFL lead in interceptions in 2022 with 15, despite missing five games because of a fractured right thumb. Against the Buccaneers, he had four touchdown passes and ran for another. Against the Niners, he became the first Cowboys quarterback to have multiple passes intercepted in a playoff game since Troy Aikman in 1998.
Prescott's two first-half picks led to six San Francisco points. His second, on a throw to CeeDee Lamb, was just the second red zone interception he threw on the season.
"Two throws that I can't have," Prescott said. "You can't have in the playoffs. You can't have them when you're trying to beat a team like that. Can't have them on the road. Yeah, no excuses for that. Those are two that are 100 percent on me."
Prescott never had more than 13 interceptions in a season (2017) prior to this one, and the issue was something he never solved in 2022.
"Very frustrating," he said. "Something I've got to get an offseason, take a look at all of them. As I said before, they all have their own story. The two tonight? Unacceptable. Can't put the ball in jeopardy like that. Whether they're tipped up in tight throws or whether I'm late on a stop route, just can't happen. The number that added to is ridiculous. I can promise that the number will never be this again.
"I promise that."