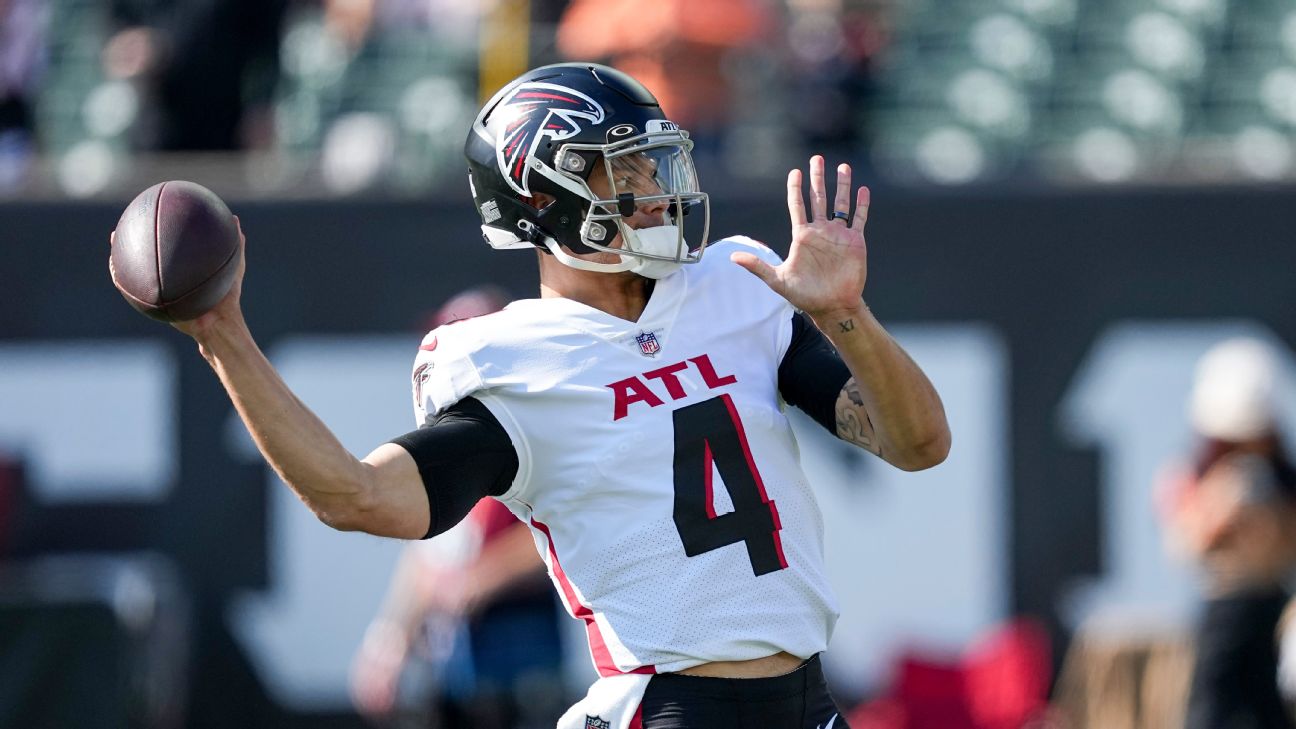 FLOWERY BRANCH, Ga. — The Atlanta Falcons have officially made a move at quarterback, naming rookie Desmond Ridder the starter for the rest of the season, replacing veteran Marcus Mariota.
"It was a performance-based decision," Falcons coach Arthur Smith said Monday. "Obviously where our circumstances are, we talked last time about trying to get over the hump in some of these close games and where we try to push the offense.
"We feel like that this is the best decision where he's at, where the team's at, as we prepare to go down to New Orleans."
The Falcons signed quarterback Logan Woodside off the Tennessee practice squad — he has familiarity with Smith and his offense — to provide depth behind Ridder because Mariota is not at the team facility as he is getting a chronic knee issue looked at.
Also, running back Damien Williams has been released, a source told ESPN's Adam Schefter. Williams, who is on injured reserve with a rib injury sustained in Week 1, is said to be "100% healthy and well rested," the source told Schefter.
Smith said he did not know if or when Mariota would return to the facility. He said the knee issue had nothing to do with the decision to go to Ridder and he anticipates Mariota will eventually be put on injured reserve.
Smith stressed multiple times that the Falcons felt they were close offensively but "have to get over that hump." That combined with the growth the team saw in Ridder over the past month helped push this move to handle the full game plan.
Smith said Ridder's growth has been more mental than physical in terms of understanding the nuance of the playbook, the playcalls and what goes into being an NFL quarterback even though he has yet to take an NFL snap.
"Certainly, that's what you want to see as a rookie," Smith said. "Some guys hit walls and a lot goes on behind the scenes in what you have to prepare to be a quarterback and be a backup quarterback. "It's a huge job. So, there's a lot that factored into it and we've seen a lot of improvement, which gives you a lot more confidence."
On Sunday, Ridder will throw his first NFL pass against the Falcons' biggest rival, the New Orleans Saints. Atlanta has lost four of its last five games but is one game back in the NFC South at 5-8. The Falcons have scored more than 20 points in just one of the last five games.
After learning he won the job, Ridder stayed at the team's facility during the Falcons' bye week and threw with players, including running back Tyler Allgeier, who remained in town during the break to begin to build more chemistry.
"He worked his tail off to learn the playbook and all that stuff," Allgeier said Monday. "He feels really comfortable so I'm just excited for him to get his chance."
Ridder, who was selected by the Falcons in the third round of this year's draft, is expected to talk with the media later this week. Last month, in a conversation with ESPN on his progress, Ridder said Mariota's advice about constantly reciting the playcalls was something that really stuck with him.
"He always talks about the constant, non-stop of just repeating the plays," Ridder said. "Whether that's in your car ride, whether that's before, every little moment you've got, that's being able to memorize and understand the game plan. That's one thing that he's helped me with."
Smith said they might have had to change the game plan if Ridder took over earlier in the year, but believe he is in a better spot now.
"You're always looking at it. The last month or so we've been in plenty of close games and one of those things we need to see evolve in the passing game as we evolve this season," Smith said. "I like the progress we've made in the running game. I think it's something we think can benefit us, not only in the short term but in the long term.
"That's what you're evaluating."